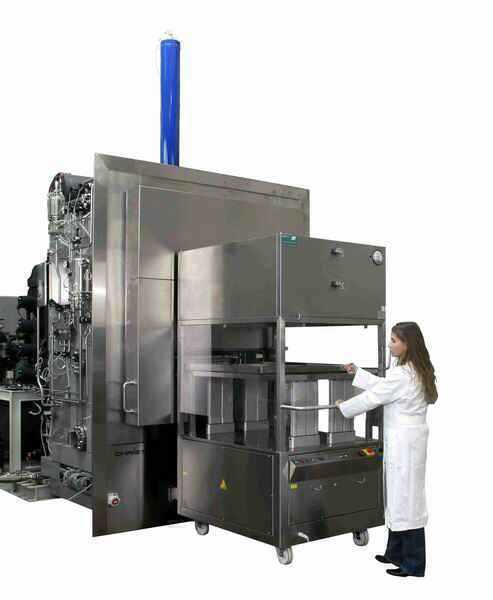 For analysis, planning or the selection of system components, we offer you one-stop shopping for the perfect combination of freeze dryer, loading system and technology to ensure purity and cleanliness and/or operator safety. Our successful collaboration over many years with leading suppliers of combined technology solutions, such as loading systems and isolators enables us to offer you solutions that combine the highest level of innovation with attractive procurement and operating costs.
Laminar flow trolley
For many productions a semi-automatic loading/unloading solution is sufficient. With this solution the safe and Reliable manual transport of individual vials or dishes by staff becomes available. With a perfect aligned system out of a freeze dryer and a trolley the loading and unloading of the freeze dryer could be done operator friendly. The trolley could be equipped with a laminar air flow system.

Für das Beladen eines Gefriertrockners im rahmenlosen Verfahren mit niedriger Bautiefe wird ein automatisches Push-Pull-System verwendet. Vor dem Gefriertrockner werden die Vials reihenweise zusammengestellt und hexagonal versetzt, Reihe für Reihe eingeschoben. Die Beladung erfolgt durch die Schlitztür des Gefriertrockners, welcher eine konstante Ladehöhe besitzt.
Zur Entladung werden die Vials vom Ausschieber des Push-Pull Systems wieder auf die Fördertechnik gebracht, hier übernehmen die Förderbänder den Abtransport. Durch unser best-Partner-Konzept bieten wir Ihnen gemeinsam mit unseren Partnern, die auf Ihre Produktionsbedürfnisse abgestimmte Gesamtlösung aus Gefriertrocknungsanlage und Be- und Entladesystem sowie ggf. notwendigem Produkt/Operator-Schutz mit Isolator.