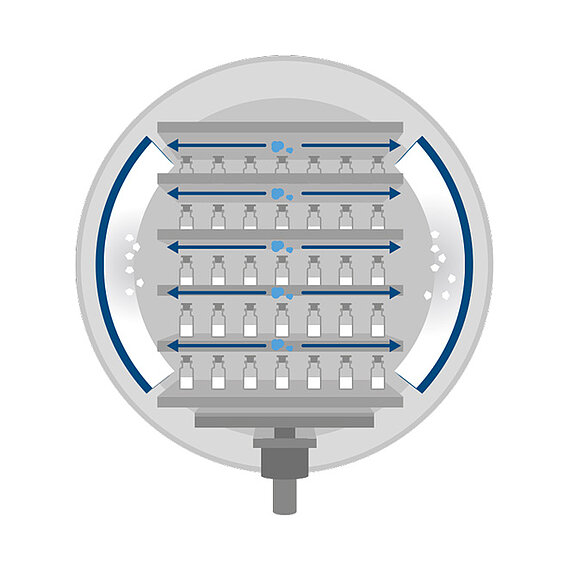 Drying bulk materials (single-chamber systems)
Christ Epsilon single-chamber systems are always a good choice when the primary consideration is high drying performance with low capital expenditure and low energy costs. They also ensure reliable and economical operation year after year. With large shelf area and adjustable shelf spacing, they are general-purpose systems with high ice condenser capacity.
Advantages of Christ single-chamber systems:
Easy, simple and user-friendly operation
Ice condenser adjacent to shelves for high efficiency and short drying times
Product and condenser icing can be observed during the drying and defrosting processes
Fast defrosting of the ice condensor (20 to 30 minutes)
Easy cleaning of the drying chamber and the ice condenser
Low operating and maintenance costs
Compact construction, easy transport and simple system installation
Optionally available with electro-hydraulic stoppering device and adjustable shelf spacing.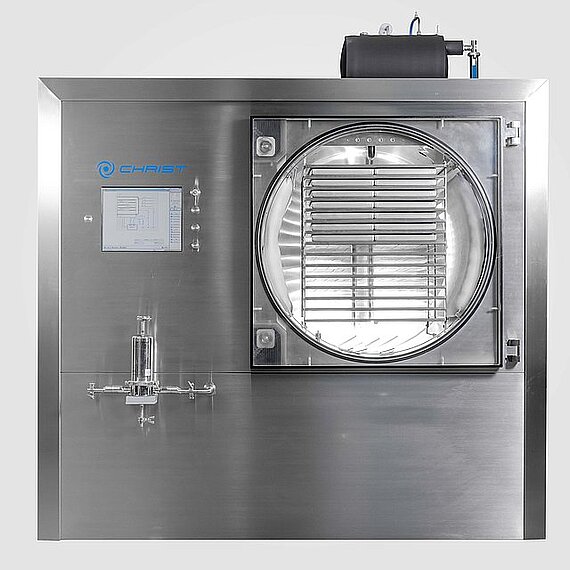 There is a choice of five standard sizes with shelf area from 1.76 to 18 m² and ice condenser capacity from 20 to 180 kg. Taylormade capacities are available on request.

The single-chamber principle is particularly suitable for drying trays (bulk goods). Examples are bacterial suspensions, nanoscale materials, high-quality foods or diagnostics.